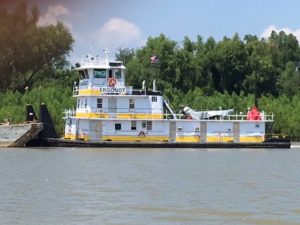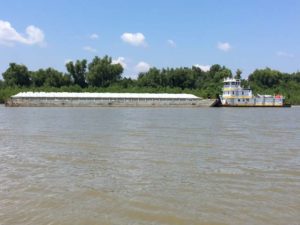 We had stopped to eat a meal, along the Mississippi River, while driving back from a Revival Meeting in Louisiana. The quaint little restaurant actually sat by the riverside, just across the street anyway. As we left, I noticed the scene pictured above. Just a little "tugboat," but what a message it conveyed to me early this morning!
Today's Bible Lesson …
Paul actually did mention the spiritual gift of "helps," when writing the Corinthians. God the Holy Spirit has specially equipped some Believers to serve others!
He says again in Romans 12, still discussing the "gifts" of the Holy Ghost, some have the "gift" of "ministering!"
And in 1st Corinthians 16:15 Paul introduces us to: The house of Stephanas, that it is the firstfruits of Achaia, who have addicted themselves to the ministry (serving) of the saints." Wow!
"Helping" other Christians, in any way possible!
(I realize we ALL are to "serve one another. "For, brethren, ye have been called unto liberty; only use not liberty for an occasion to the flesh, but BY LOVE SERVE ONE ANOTHER." Galatians 5:13 says so. But I am additionally saying some among us are gifted to serve, as a motivation for all they do for Jesus!)
So Elisha served Elijah! "Is there not here a prophet of the LORD, that we may enquire of the LORD by him? And one of the king of Israel's servants answered and said, Here is Elisha the son of Shaphat, which POURED WATER ON THE HANDS of Elijah." 2nd Kings 3:11, menial work indeed, but recorded in the Bible!
Certainly Timothy served Paul.
And Jonathan served David.
Dorcas served her whole church family! With her hands and a needle and thread, a seamstress! "Then Peter arose and went with them. When he was come, they brought him into the upper chamber: and all the widows stood by him weeping, and shewing the COATS AND GARMENTS which Dorcas made, while she was with them." Acts 9:39
The point I'm making today … just like that little tugboat in my picture exists "to serve" … pulling and pushing and whatever else is needed … to get his load to port or market or the coast … so we ought to constantly be willing … to place ourselves at the disposal of other brothers and sisters in Christ!
Remember what was said of Mary, Martha's Sister … "She hath done what she could." Mark 14:8, when she anointed Jesus' Body, He said, for burial!
And friend, if you get your delight as a Christian SERVING OTHERS, you might want to consider framing such a picture as this, something that exists to HELP, for inspiration!
I too, want to SERVE the Body of Christ!
— Dr. Mike Bagwell
By the way, the Greek word for "deacon," spelled "diakonos," means "one who serves!"
If today's Lesson makes sense, someone let me know. My text number is 770-844-7627. I hear from at least one or two of you every day! And I love it.